Donations & Support
Donations
The School Music Revival project to support the maintenance, repair and inspection of school musical instruments is seeking donations from everyone. Thank you for your support.
Procedure
We have set up ann official fundraising office, and we ask your support.
Donations by credit card
Online donation system has been provided by Bokinchan.com bySonorite Corp. Please note that you are going to move to another website.

Bokinchan.com is an online system that can be used safely at low cost. Credit card numbers and other personal information obtained online, and is managed by the security server. Credit card information (card number, expiration date) is housed agencies (SBI VeriTrans Corporation) and is managed through systems that are not to hold the School Music Revival.
Donations by bank transfer
Postal transfer
[Transfers from postal savings (Yucho Bank) accounts]
Code: 10160
Bank transfer account No.: 93828411
*Transfers using Yucho cards will not incur transfer fees.
[Transfers from other financial institutions]
Branch name: Zero-Ichi-Hachi
Branch No.: 018
Regular Deposit: 9382841
*Transfer fees will be assumed by the donor.
Mizuho Bank
Bank transfer account: Kanda Branch (108)
Regular 1260350
Account name: Kodomo no Ongaku Saisei Kikin
Promotional Tools
A variety of promotional tools is available.
Official banner type A (175 x 60 pxl.)

Official banner type B (175 x 60 pxl.)

A3 Poster (PDF: 138 KB)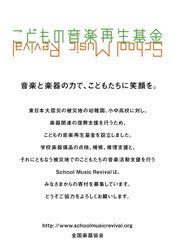 Collection Box B5 ( PDF: 113 KB)